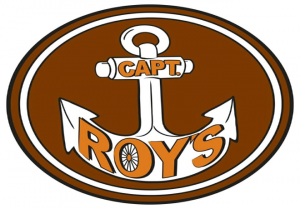 Captain Roy's is this week's Sweet Deal! get $50 in gift certificates for just 25 bucks!
Bike, boat, or drive on down to Captain Roy's to enjoy great food, drinks, and a great time. Captain Roy's is serving up the best burgers, tenderloins, and wraps in the city. Captain Roy's even has all of your favorite adult beverages and a huge selection of local beer. With trivia, bingo, and live music weekly, you're always guaranteed a good time at Captain Roy's. Be sure to check our events page at Captainroys.com and follow us on social media for more details!
Captain Roy's gift certificates are great for the holiday's!
Captain Roy's is located at 1900 Saylor Road at the Birdland Marina on the Des Moines River right off the Neal Smith Bike Trail!
For more information on Captain Roy's and to check out their merchandise store go to captainroys.com
Captain Roy's is this week's Sweet Deal! Get $50 in gift certificates for just 25 bucks starting Friday morning at 9am here: https://www.sweetdeals.com/des-moines/9012197-captain-roys