Ticket Tuesday Sweet Deal World's Toughest Rodeo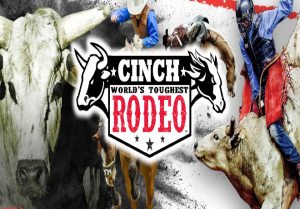 The World's Toughest Rodeo is this week's Ticket Tuesday Sweet Deal!
Get two admission tickets to the Rodeo for the price of one for Saturday night! A $60 value for only $30! That's half off! There's a limited number of Sweet Deal tickets available so get yours now before they are gone!
Let's Get Ready to Rodeo Des Moines!
The 2022 Cinch World's Toughest Rodeo tour will open at the WELLS FARGO ARENA with big shows January 7 & 8 at 7:30 p.m. We are Pro Rodeo. Enjoy a thrilling show featuring the nation's top P.R.C.A cowboys vs. the rankest bucking horses and bulls in the fan favorite events: Bull Riding, Saddle Bronc Riding and Bareback Riding. Riding to garner points to qualify for the National Finals Rodeo in Las Vegas… the COWBOYS are "in it to win it". We save the best for last as the top two cowboys in each event will go head-to- head a second time in the Winner takes all…Showdown Round. Some of the nation's fastest cowgirls will also compete in the Women's Barrel Racing.
SADDLE UP FOR FUN: IT'S FUN 8 SECONDS AT A TIME!
Cinch World's Toughest Rodeo will feature some of the nation's most exciting specialty entertainers. Roger Mooney, National Finals Rodeo announcer will make his debut in Sioux City and will become a fan favorite. John Harrison, 6x National Finals Barrelman and 3x ProRodeo Comedy Act of the Year has worked coast to coast and will do what he does best…entertain the fans and keep them on the edge of their seats.
FREE PRESHOW NIGHTLY: Cinch World's Toughest Rodeo has doubled up on preshow FAN FUN as the rodeo doors open at 6PM for a free (with ticket) Preshow. Gather your family and friends "get down in the dirt" and make memories to last a lifetime! Come early for pony rides, meet the cowboys, hop in the clown's barrel for photos, sit on Sonny and Silver Dollar, our live photo bulls in the bucking chutes, or get up close and personal for a behind the chutes tour.
TIME AND TICKETS: Friday January 7 and Saturday January 8 at 7:30 pm. Tickets are family priced starting at just $20 with additional options including a Gold Buckle Package including best seats in the house, a free program and a VIP meet and greet at 5:45 p.m. Load up your family and friends and make memories to last a lifetime.
GET YOUR PARTY ON SATURDAY NIGHT ONLY:
Fans are invited to come early for $2 buck beers, giveaways and more from 6 – 7:15 to get the party started in the Budweiser Party Zone.
TIME AND TICKETS: Two big shows January 7 & 8, 2022 at 7:30 p.m. DISCOUNTS AND TICKETS: Tickets are family priced starting at $20, featuring the P1 Gold Buckle Package, including Program and SPECIAL meet and greet. Tickets available at www.hy-veetix.com or the arena box office. Get $5 ADULT DISCOUNT ONLINE with discount code at www.facebook.com/worldstoughestrodeo.
For more info, visit www.wtrodeo.com OR call 563-580-2399
IT'S THE BEST RODEO YOU'LL EVER SEE!