The Bob & Tom Show
Monday – Friday: 5:00 AM – 9:00 AM
Online at www.bobandtom.com
The Bob & Tom Show     
With a foundation built around comedy and talk, The Bob & Tom Show features news, sports, lifestyle content, and interviews with today's top actors, and newsmakers. The show is also America's leading media outlet for the best comedians on the circuit.  More than just a comedy show, Bob & Tom also feature live performances from singers, songwriters, and musicians.
The Bob & Tom Show was inducted into the Radio Hall of Fame in 2015. The show has won five Marconi Awards, the absolute highest award in radio from the National Association of Broadcasters. The Bob & Tom Show has released over 60 comedy CD's and DVD's.  The show also has produced specials for Comedy Central and live comedy concerts nationwide via The Bob & Tom Comedy All-Stars Tour. The Bob & Tom Show is now heard on hundreds of radio stations from coast to coast and worldwide on the American Forces Radio Network. The program airs live weekdays from 6am-10am ET.  It began national syndication in 1995 from its station in Indianapolis. Show parodies, songs, bits, and more are produced by a large staff of writers, musicians, artists, performers, and misfits.  
TOM GRISWOLD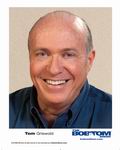 No one on the planet has a more complicated life than Tom and it includes raising his seven children.  The staff isn't too sure what he does in his free time because he's always, "gotta go."  From Cleveland, after bluffing his way through an Ivy League school and a radio stop in Florida, Tom formed the morning show which eventually came to Indianapolis leading to the show's syndication.
CHICK MCGEE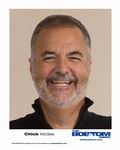 Born in London, Ohio, Chick began his broadcasting journey in West Virginia but eventually made it to The Bob & Tom Show's flagship station in Indianapolis.  Chick, a lifelong Washington Redskins super fan, is "Your Sports Buddy."  He is the one to put Tom in his place all while delivering the occasional rim shot.  From time to time, Chick assumes the role of the one and only Mr. Obvious. When not on air, you can find him at home with his "big sweeties," aka his two dogs.
KRISTI LEE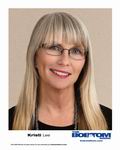 Kristi is the voice of reason in the room, all while delivering the day's lifestyle and entertainment news.  A native of Indianapolis, mother of two girls and single, Kristi's life is a non-stop roller coaster.  Add this to having to wrangle the boys in the morning from 6a-10a, her days are full and never boring.
JOSH ARNOLD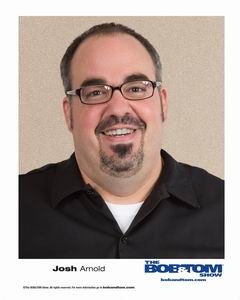 Josh is the newest addition to the cast, even though he wasn't the first choice (just the first to one to say yes).  Josh is a single guy who's been touring the country as a stand-up comedian for over a decade. Josh's career in stand-up comedy was propelled by his desire to work as little as possible (up to 45 minutes a day, max), stay up late and sleep in 'til ten. Josh notes that being on The Bob & Tom morning show kinda screws up his plan, but says, he'll work through it.  With his stand-up experience and library of incredibly bad puns, Josh fits in seamlessly.
DEAN METCALF
Dean is the on-air producer and when he's not putting calls on the air…he's calling in on the air. To give you an idea to his range of talent, he is both a brilliant musician as well as the idiotic caller on the Mr. Obvious Show.
RON SEXTON
Ron joined the show as a voice actor.  His Donnie Baker character has become a fan favorite with millions of Bob & Tom listeners and YouTube viewers worldwide…swear to God man.
Al JACKSON
Al is the show's west coast correspondent, keeping us up-to-date with crazy lifestyle news recaps.  Al is a nationally-touring comedian, actor, and television host who has been seen on Comedy Central, E!, MTV and more.
ALLI BREEN
Allie is the show's east coast correspondent.  She is an accomplished stand up comedienne and writer who appears regularly.  She's been seen and heard on FOX's Red Eye, TV Guide Network, AXS TV and more.