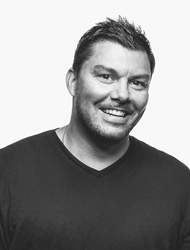 Weekdays 7pm – Midnight
Bio
Born and raised in hardy Northern Wisconsin.
Pyke's drive for action goes back to his snowboarding days on the slope of the Colorado Rockies. His dream of pursuing a radio career brought him back to the Midwest, where he became the van driver for a local radio station in Minneapolis, MN. Pyke was brought under the wing of a local radio jock named Cane, who brought him to work in New York City after landing big radio job in at Z100.
With the #1 market under his belt, he changed formats, going from top 40 to the legendary Rocker WXRK (KROCK) in NYC as the late night personality, leaving the station and waving goodbye just as Howard Stern would be walking in to start his morning show. Pyke later landed a few jobs in Chicago and earned big ratings, but returned to New York City to work at WXRK (KROCK), again. Soon, Pyke landing his own morning show at WSSR in Tampa, Florida. The magnetic pull of the Midwest, brought put Pyke at the renowed rocker, WIOT (104.7) in Toledo, Ohio – where his big ratings in afternoon drive triggered his nationwide syndication to a long list of radio stations.
95 KGGO welcomes seasoned radio rocker, Pyke to the airwaves.
Pyke is also a licensed bail bondsman, Workout enthusiast, compliance direction takedown (CDT) instructor and a long time practitioner of Krav Maga and certified executive protection specialist. We feel very secure when Pyke is at the radio ranch.